4x4 Off Road Driving & Winching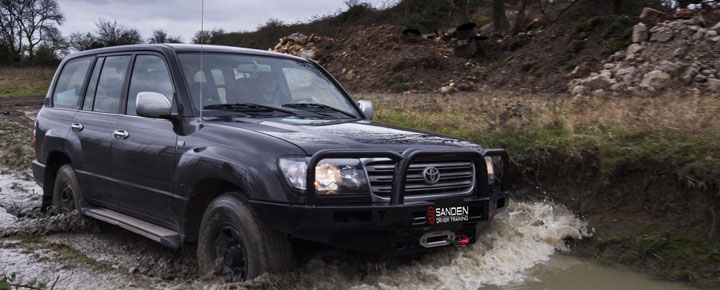 Our custom designed off road track and 4×4 vehicles allow us to teach you the skills required to drive across the terrain that you are likely to meet when you decide to go off the tarmac!
Our NPTC qualified instructors have over 50 years combined experience in teaching off road driving.
We offer a one day 'beginner'  or a two day 'advanced' package which both incorporate recovery winching.
Our track includes the following:
Deep ruts
Steep ascents and descents
Sand and gravel
Water crossing (variable height)
Boulder run
Standing and fallen trees
Table top mounds
Side slopes
During the course, you will be taught how to drive across ruts without getting your vehicle stuck, drive up steep inclines safely (including failed hill climbs) and then back down the other side whilst utilizing engine braking.
You will be taught how to safely negotiate  side slopes, reducing the risk of sliding or toppling and how to traverse ditches and fallen trees. Sand and gravel offers a different challenge to mud and we will show you the different driving techniques. Water can cause lot of damage if you don't know your vehicles limits and the correct crossing procedure.
Of course it is inevitable that you are likely to get stuck on your off road adventures, so to help you get back moving again we will teach you how to safely recover your vehicle using a recovery winch.
Prices:
One day 'beginner' package – from £200 per person
Two day 'advanced' package – from £375 per person
(Discounts may be available on multiple bookings)